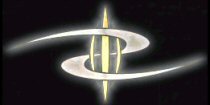 GTB Zeus
---
Zeus: (Greek Mythology) supreme God and authority in the gods' domain of Mount Olympus and on Earth.
---
Source: Freespace 2
Author: Volition Inc
The newest of the old bombers, the Zeus was originally used against the GTA in the Hades Rebellion. Since then it has seen widespread deployment as a Strike Bomber to replace the old Athena. With the Artemis entering service, the Zeus will shortly begin to be phased out. Like its older brethren, the Zeus was retrofitted in the 50s to extend its operational lifetime, and still performs fairly well, though most Zeus bomber wings have recently defected to the Neo Terran Front.